Other Links
Alumni Events Calender
Class of 1974
Class Presidents
Academic Excellence
1963 Reunions
Reunions
Class of 1963
Class of 1964
Class of 1977
Class Pages
Class of 1998

---

Class of 2003

Roberto Castillo
Webmaster
We encourage everyone to go out and see our Eagles play Laredo United this coming Friday at Eagle Field. Our team has been doing fine and defeated Laredo Martin. We have notice a decline in attendance in out of town games and must assume that the expense of traveling might be the reason. I will not be able to attend this game but plan to be in EP for homecoming on October 31 when the Eagles play Laredo Nixon.
I am pleased to hear from so many of you about the salary increases for commissioners and judge. We will see if this in fact draws more candidates with better qualifications that can be capable of working together with each other in the interest of our county. This also means that the public should hold them accountable for making sensible decisions and make sure that projects are assigned to the qualified and not to family members that may not be capable of doing the best work.
Our alumni email directory continued closed until further notice. We are sending frequent alumni updates to those that have their email address on our database but we will not post the addresses on the internet for now.
There has been no feedback about the idea of having an All Class Reunion in Eagle Pass following the homecoming game on October 31. Thats it for now.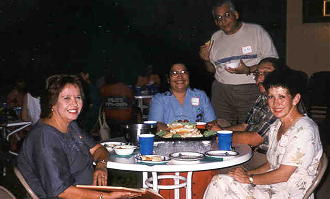 Lawlessness associated with Tribe overthrow filters over to Casino
The general lawlessness that has been the order of the day at the Kickapoo Reservation under the counsel of a small closely-knit group of outside non-Indian advisors has now flooded over to threaten patrons of the Lucky Eagle Casino. ... MORE
Around the county
Our Lady of Refuge Catholic Church will be holding their Annual Festival on Saturday, November 8. There will be fun for all, Entertainment, food, drinks and games. Take a chance at winning one of the following prizes:... MORE
Majority of commissioners adopt budget which begins to address overdue needs
A majority of Maverick County commissioners court adopted a $9.1- million fiscal year budget Monday afternoon which finally aggressively pursues addressing many of the most pressing needs which have gone ignored over a period of administrations. .... MORE
Olguin-Torres marriage vows exchanged Aug. 23
Rogelio and Gloria Olguin of Eagle Pass proudly announce the marriage of their daughter, Vanessa Daniella, to Javier Alberto Torres son of Javier and Eugenia Torres of Eagle Pass. .... MORE
Fed. judge to let Kickapoo Tribe decide destiny at polls
Federal judge Fred Biery has remained true to his beliefs that the Kickapoo Traditional Tribe of Texas should be left alone to find their own way and through their own political process... MORE
Ruben Carrillo, El Gram sued by ISD for back taxes
Just a few weeks after a repeated public display of whining over missing out on just a few dollars of advertising from the Eagle Pass Independent School District, it has come to light that the front man for EI Gram, Ruben Carrillo, has for several years not invested one penny back into education locally...... MORE

_________________________________________

_________________________________________
Other Letters To The Editor

I'd be happy to discuss tattoos
Chuy has no control over his dogs..
_________________________________________

---
View Guestbook

Sign Guestbook
This is the place to make birthday, wedding or birth announcements, congratulatory messages for friends or co-workers and general announcements of all types.
---
---

Website developed and maintained by Roberto 'Bobby' Castillo
Hosted by



Our site is best viewed at 800 X 600 pixels






about...
HUMBERTO GARZA '59
LOU GARZA '73
GEORGE LYALL '43
______________
---
things have gone from bad...
At Graves Elementary, E.C.C., San Luis Elementary, things have gone from bad, to worse, to critical. It is sad to see these institutions of learning fall to such lows, and the blame lies squarely on the shoulders of people who have no business owning an administrator's certificate. At Graves Elementary, the hiring of school personnel seems to be limited to women only. I wonder how many males were ever hired by this wannabe superintendent when she reigned as queen of Sam Houston Elementary? Are the male teachers at Graves elem happy with the methods she is using to try to get rid of them, and how is this helping the children that attend school there?
Before she became an administrator at E.C.C., the queen of this campus thought that the Gonzalez school board of long ago was so full of itself because it passed a no-smoking policy in our schools (I tried explaining to her that he board had only put in the the books something that the State had mandated, but her mind had already been made up). Now that she reigns in her own private little world, I wonder if she allows people in her kingdom to smoke?
Our queen at E.C.C. is acting like a despot. Any voicing of concerns at meetings is seen as "outbursts" and is deemed by her majesty as disrespectful and unprofessional behavior. What she wants is for her employees to shut up and voice their concerns in her office only where she can put them in their place --very professional behavior on her part!
Now to San Luis: The daughter of the instructional officer is being called to substitute there- no conflict of interest in this place where anything goes.
Teachers being paid over $50,000 a year are working with small groups of children all day long while a teacher aide earning much less has to pullout over a dozen students each period and work with them in the school's cafeteria, unsupervised by any teacher-- anyone see the logic here?
A permanent substitute has been working here since school began, and apparently because the paperwork did not go through, she is being told that she will only be paid for two days work--lawyer, anyone?
Meanwhile, fully certified teachers are available but are not being hired for this position- so who suffers: the principal or students?
The Gestapo at San Luis questions the teacher aides constantly about where they are going every time they have to use the bathroom facilities. Apparently the Gestapo believes that these employees waste a lot of time at school--- a mirror might help them see how much time they wast during the school day!
Several teachers at San Luis tried following the advice of the E.C.C. royal on Friday by voicing certain concerns they had in the principals office. For being this professional they got kicked out and were threatened with retaliation so much for doing what they want! And threatened with non renewal of their contracts if the TAKS scores did not improve were the fifth grade teachers. The Principal and instructional officer must be making their own policies, because I doubt the district's lawyer or the school board members are aware of any such policy existing in their books. Maybe a meeting of the minds between the board members and these two campus administrators needs to take place to set new board policy which allows for the threatening of careers of teachers -- but what about their share of the blame for the TAKS scores?
Name withheld by request